Your One-Stop Shop for Baby Onesies With Zippers
Want to keep your little one cozy while still being able to zip through diaper changes? We've got you and your little one covered at Little Zips. The name says it all! We offer top-tier zipper baby onesies in a variety of colors and styles to suit your and your child's needs from one moment to the next.
Baby Onesies With Zippers in the Size You Need
Don't let our name fool you. At Little Zips, we provide comfy and stylish baby onesies in multiple sizes—not just the smallest! For instance, we offer comfy newborn outfits with mitten cuffs for your newborn bundle of joy. As they grow, we also offer high-quality double zipper onesies with anti-slipping foot grips for on-the-move babies in 18-24 month sizes.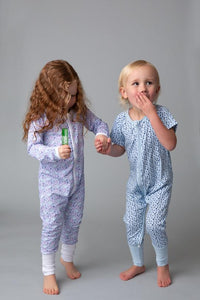 At Little Zips, we take pride in offering the latest styles and unique designs from one season to the next. Our long-sleeve designs are perfect for colder months, while the short sleeve designs are just what you need for spring and summer! Check out our newest arrivals today!
Your little man will easily zip through the day in both style and comfort with our baby onesies with zippers for boys. That's because our Little Zips boys onesies are made with a grade-A blend of Spandex and cotton for ultimate comfort every time.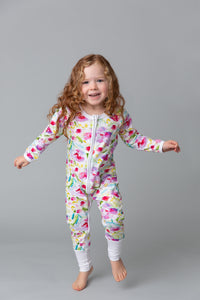 You want your little princess to look stylish and feel super comfortable. At Little Zips, we get it. That's why our colorful baby onesies with zippers are made from the highest-quality materials to keep your child feeling warm and cozy. Take a peek at our broad selection of onesies for girls here!
Looking for an easy and convenient baby onesie with a zipper that is also gender-neutral? Do you need a double zipper onesie for easy access during diaper changes? Maybe you need newborn outfits with mitten cuffs that fold over to cover the feet during the winter months. Find cute onesies perfect for any little one here!
Why Little Zips?
Little Zips is your provider of zipper baby onesies in the United States. Our onesies—which are available in double-zipper and two-way-zipper options—are stretchy, soft, and come in unique designs for your one-of-a-kind little one. To keep your little one safe, our onesies also come with zipper covers designed to protect each child's neckline.
At Little Zips, our onesies also stand out for being extremely easy to maintain. Our customers love the fact that these items can go in the washer and dryer. Simply wash them inside out in cold water with like colors for the best results.
When you order onesies in the US, you can enjoy free shipping on every order—an added bonus! Shop now for the perfect onesies for your child.