Little Zips Baby Blog
Little Zips was founded by a parent team dedicated to creating functional baby onesies. We are so excited to expand our brand and share our knowledge in the form of baby clothing blogs, new parent blogs, and more!
On our blog, you can find the latest children's fashion trends, great tips for new parents, and everything else there is to know about your little one. Our passion started with functional two-way zipper onesies, but it certainly does not end there. Behind the clothing we provide, our true passion is rooted in helping families to live stress-free lives.
Baby boy fashion is constantly changing, and there are tons of trends and styles out there that can be used to put together an incredible look for your little guy. From contrasting colors to all-in-one jumpsuits, there are so many ways to keep your baby looking stylish and feeling cozy all day (and all night) long. Thankfully, Little Zips is here to help with some of our favorite tips and tricks for enhancing your baby boy's style. Read on to learn more about the best baby boy clothes on the market!
---
If you're a new parent, you may not have tons of time. So, let's hop right into it! Let's take a look at our top 5
tips for new parents
.
---
Winter is quickly approaching, and that means it's time to bundle up your little ones! If you've been wondering how to keep infants warm at night or how to dress newborns in winter, you've come to the right place. There's no denying that parenting has its challenges. However, baby apparel should be one of those things that give us a bit of a break. Let's take a look at easy winter clothes for toddlers and infants.
---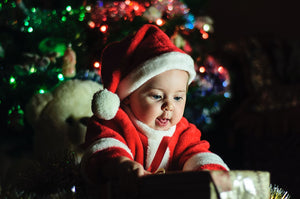 There are thousands and thousands of adorable and fun baby and toddler gifts—but are they useful? When parents have little ones in the house, receiving yet another toy or loud trinket may be the last thing they want. While being grateful for the gifts received, many parents scream on the inside when they get gifts that do nothing more than take up space in their home. Let's take a look at useful baby gifts and non-toy gifts for toddlers.
---
Sleep regression is the time in a baby's life when their sleep pattern takes an unexpected shift. This can occur at any time — even up to two years old — but the most common age bracket for this to happen is from 4-18 months of age. During this time of
sleep training regression
, you may find yourself frustrated, and your little one might be right there with you! Let's take a look at
how to deal with sleep regression
in a way that will make your lives so much easier.
Learn More with Our Baby Blogs
Just like everything else in life, there are hacks to parenthood. Check out our baby blogs to learn everything there is to know about maintaining a comfortable and functional family life while living with an infant or toddler. Life isn't over when a baby is born — the adventure has just begun!
Keep Up with the Latest Trends
Baby clothes shouldn't be stressful — they should be cute, functional, and convenient! Take a look at our baby clothing blogs and discover the latest trends.
We've Got You Covered
Parenthood is an interesting ride. There are a lot of ups and downs, a lot of confusion, and definitely a lot of frustration. Take a look at our new parent blogs to explore research-based facts and tips from experienced parents.
At Little Zips, we have first-hand experience in the tender journey of new parenthood. We understand how hard it can be and we want you to know that you are not alone. Check out our blog to gain helpful insight into your unique journey today!